Healthy Lunch for Kids
Great healthy lunch for kids - why not try making this lunch today!
Benji really liked the lunch I made for him yesterday.

I found some all natural pita bread that doesn't contain any preservatives or raising agents or other chemicals. And I've made meals for my son with them and every time he likes it.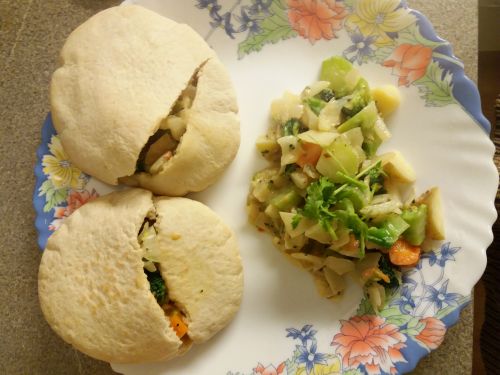 Pita Bread with Broccoli and Veggie Stuffing
For yesterday's lunch I made a veggie stuffing out of broccoli, tomato, potatoes, onion, ginger and a few other ingredients and it turned out really well!
One ingredient I didn't use but could have used, is mushrooms.. could actually fit really well.

Anyhow, here I share the recipe with you :)

You can absolutely leave something out or replace it with something else - I do know soy is a crappy bean, but I still use it (only organic) in some recipes for my son, because he is used to having it in some Asian style meals. It's only about once a month he has soy anyway.
Also, if you don't know what nutritional yeast is and don't feel like taking a trip to a health food store, go ahead and skip that one. I just used it because I bought some today and had never used it before and wanted to try it. I read on the package that it's full of B vitamins.
Apple cider vinegar can be exchanged to regular vinegar, I just use the apple cider kind because it's healthier.
Directions for making this healthy lunch for kids:
1. Finely chop the onion and garlic and ginger - but hey, if you think these flavors will be too strong for your child - just skip them, it's totally fine! You can make another batch for yourself where you include the good stuff! Don't you also just love garlic? :)
Alright, let's continue...
2. Chop the tomatoes, set aside.
3. Cut the broccoli, carrots and potatoes into quite small pieces. Put some water and salt into a pot and place the potato pieces in the water and let it boil for 5 min, then add the carrot and broccoli pieces to the water. Let it all boil until the potatoes are soft.

4. Add the coconut oil to a pan and let it melt. Add the onions, pepper and salt to the pan and fry over low heat (sautee) for a few minutes. Now add the garlic, ginger, the herbs (thyme and parsley) and the tomatoes. Keep sauteeing everything a few more minutes. Add the cooked potatoes, carrots and broccoli to the pan. Also add the nut milk. Stir and then turn the heat off.

5. Start toasting the pita breads in your toaster.

6. While the breads are in the toaster, add the tamari or soy sauce, the sweetener, the apple cider vinegar and the yeast to the mixture. Stir.

7. Now fill the toasted pita breads with the stuffing. If there is stuffing left, that can be a side dish, my son ate the leftover stuffing with a spoon and really enjoyed it.

I hope this healthy lunch for kids will also be a hit in your house!
And oh! I served some mint tea with this - you could do the same. Take care and have fun cooking!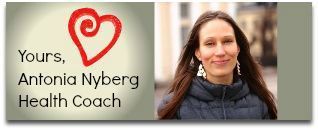 By the way, my website may earn affiliate commission when you go to a vendor through a link on my website. That way I get a little profit but you won't be paying any more than you usually would. All it does it help antonianyberg.com stay here and it helps me keep spreading my nutrition knowledge.

This article that's a part of the Nutrition for Kids antonianyberg.com website.
You might find other healthy lunch ideas for kids on some of the other pages, you can for example get some meal ideas here or check out some vegetarian recipes here

Related Topics