Healthy Snack Recipes for Kids
Healthy Snack Recipes for Kids - Nutrition for Kids
We don't only need healthy lunch recipes for kids and nutritious dinner recipes - but also ideas for snacks, right?
Fruit roll-ups is something I wanted to make for a long time. Now that I saw this video I think I will finally go ahead and try it out.
On the other hand a snack can be pretty simple and often times don't need a recipe. Healthy food is simple.

One thing is for sure, healthy snack recipes for kids don't contain sugar.
All meals, treats and snacks on this website are free of added sugar!
I am sure your kids wouldn't say no to a beautiful plate like the heart shaped one with kiwis and berries you see here?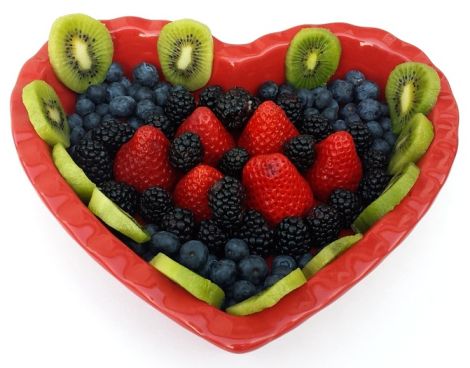 For small children, pears are easier to chew than apples. But both are very nutritious.
You could make your own apple sauce if your baby doesn't have many teeth yet, by blending a few peeled fresh apples.

Passion fruit is also one of those fruits that has so much good in it and worth mentioning when talking about healthy kids snacks. 
They contain so many vitamins - B vitamins and iron, magnesium, phosphorous, potassium plus some calcium!
Not for the very young because the seeds should be chewed properly. But a passion fruit smoothie is always a possibility, mixed with bananas for example and then anyone of any age can have it.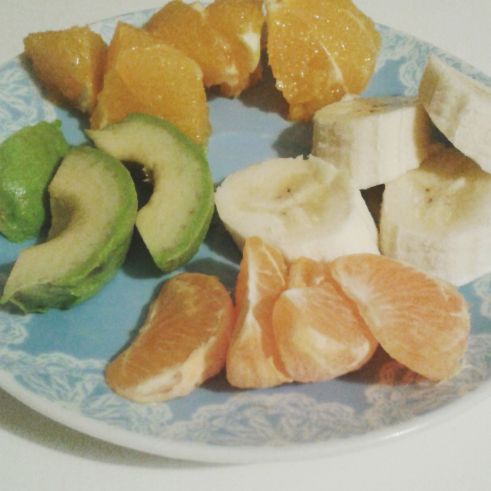 How about some cookies?
You know what happened the other day? I posted on facebook that I'm making healthy cookies and I got a lot of messages asking me for the recipe.

One friend even said she would love to be my neighbor today since I'm baking :)
Yeah well, in Finland we don't really go and offer cookies to our neighbors, especially if you live in 6 story apartment building full of flats on each floor, like me.
I don't even think I know who lives next door (well, a woman with a dog... but that's about all I know about her), but if things would be different and I would live in a smaller town I sure would go and offer some yummy baked goods to my neighbors once in a while :)
I would even ask them to come and bake with me! I think that could be a lot of fun.
Some other ideas would be...
- vegetables and hummus
- buckwheat crackers with organic peanut butter and honey
- avocado and sweet potato slices
- fruit salad

- banana or apple pieces with any nut butter or tahini (my favorite)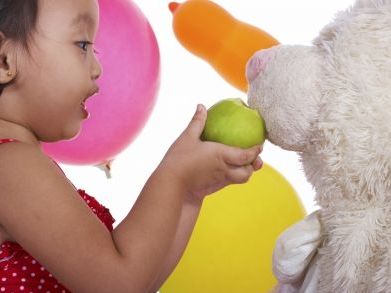 The last one is another great snack for toddlers by the way, but also for kids of all ages and even mommies or daddies too :)
I also love these chia seed and blueberry bites that I make sometimes.
I made them for Benji today, actually i made them for both of us, but before I got the chance to have any they were already gone! Lol

More Healthy Snack Recipes for Kids

Carrot Sticks with a Twist

Carrot soaked in lemon or lime juice and a little pink Himalayan salt.

All you do is place the carrot sticks in a glass that is half full of lemon or lime juice and a little salt. Leave them in the glass for a few hours and that's it! They taste so good.

My brother who has traveled a lot says that you find this healthy snack in all restaurants in the Middle East, as a starter.
There were these organic whole wheat cookies that I often bought for my son when he was a toddler.
I thought were healthy just because all the ingredient in them were organic, and the picture on the box was a beautiful farm... so that could have been another reason why I bought them so often. But it never occurred to me to check the nutrition label to see how much sugar they contained.
Now, several years later, I can't help but wonder how much sugar I was feeding him.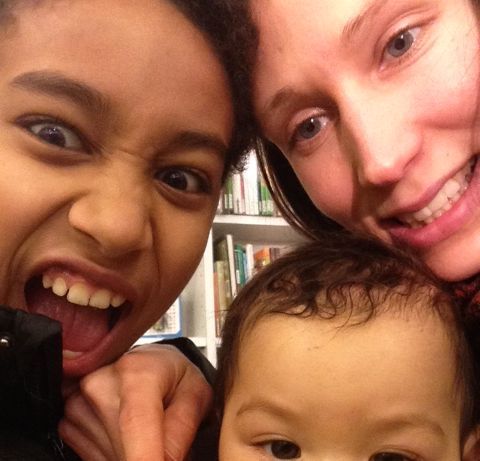 My favorite snack? Mixed nuts and dried fruits! They taste so good and make a filling healthy snack for kids over 3.
I like a mix of cashews, peanuts, Brazil nuts, dried papaya and apricots. Mmm...

My son likes dried cranberries and cashews.
Don't mind my son's face there on that picture by the way. He likes to make faces and look as scary as possible :)

Here is another great
Trail Mix:

Raisins
Peanuts
Cashews
Pumpkin Seeds
Dried Cantaloupe
Take a handful of each and put them in a bowl, container or paper bag :)

There are some stores where you can buy loose dried fruit, nuts and seeds for a little cheaper than in the regular stores. They will usually have organic ones too.

Hope you can find one close to you!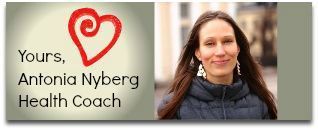 By the way, my website may earn affiliate commission when you go to a vendor through a link on my website. That way I get a little profit but you won't be paying any more than you usually would. All it does it help antonianyberg.com stay here and it helps me keep spreading my nutrition knowledge.

Related Topics